can't lose weight? I've been there!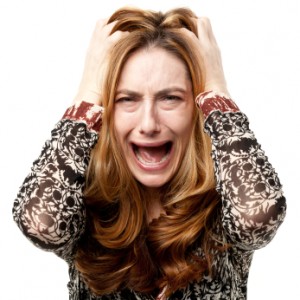 Trust me, I know what it's like to feel like you're banging your head against the wall when it comes to losing in shape. There have been 2 key times in my life when I've seriously been following the rules and yet still haven't been able to shed the extra layers, and I tell you – it made me want to SCREAM!
The first was when I was in my mid-twenties and gained about 8kg over 2-3 years while working in Personal Training management.
The second time was after giving birth … I'm talking 6 months after and still no change.
In both cases I was frantically, desperately and consistently following the rules, and yet still nothing budged. If anything, I was slowly getting bigger!
i was having a weight loss meltdown!
Here's the thing. If you're following the rules and still nothing is changing, then you're simply not following the right rules for your body. There's always a reason.
In my case it came down to a combination of things:
I thought I knew the rules (in my mid-twenties), but I didn't
The rules had changed (after pregnancy)
I was so determinedly focused that all I thought about was why couldn't get lean, both the mindset and the stress of which were definitely stopping me from doing so (in both cases!)
when it comes to why you can't lose weight, do you know the rules?
Last week we spoke about 3 of the key reasons for not losing weight, despite doing 'everything right'. They were:
Your food quality
Your food quantity
A possible gluten intolerance
But that's just the tip of the iceberg. There's definitely several other 'blocking factors' that could be sabotaging your best efforts, and following are some of the likelier offenders:
A possible lactose intolerance
Other food intolerances
Your digestive health
Underlying levels of toxicity
Your mindset
Let's talk about a couple more of those …
reason you can't lose weight #4: lactose
Lactose intolerance often goes hand in hand with gluten intolerance.
This has to do with digestion – typically if you're eating both, and intolerant to one, you will create small holes in the lining of your digestive system. This is called 'leaky gut syndrome' and puts you at greater risk of developing food intolerance.
You can test how you fare without dairy simply by eliminating it for 2 weeks, just as we discussed last week in the gluten section. Of course these sort of manual elimination tests are quite crude compared to a lab test, but they're definitely a good start.
An interesting consideration with lactose intolerance is that many sufferers find they can happily enjoy raw milk, raw cream and so on. My studies lead me to believe that the ever-increasing incidence of lactose intolerance is more closely related to quality and processing than actual inability to process dairy.
reason you can't lose weight #5: other food intolerences
Gluten, dairy, and other obvious offenders such as starch-based foods in general are not the only foods you can be intolerant to, and they're definitely not the only foods that could be inhibiting you from losing fat.
In fact, recently a colleague of mine in Finland published her lab food intolerance results on Facebook and it turned out she was intolerant to broccoli! Similarly a clients' recent results showed that almonds, asparagus, spinach, pineapple and banana were all big no-no's for her.
I find this sort of thing absolutely fascinating – the concept that even though you might be eating super 'clean' you could be unknowingly irritating and inflaming your body through supposedly healthy foods.
I'm not bringing this up to scare you, because I do realise your reaction might be 'great, another thing to stress about'.
If you haven't yet built a foundation of good nutrition and training, then by all means you may choose to hold off on worrying about the finer details such as food intolerance. But if you really do feel like you're putting a great effort in and you just don't have the results to show for it then this may be something worth investigating.
reason you can't lose weight #6: digestive health
You've heard the expression 'you are what you eat', yes?
Well the truth is that you are not what you eat so much as you are what you eat, digest and assimilate.
If you regularly or even sporadically experience bloating, stomach cramps, inconsistent elimination, diarrhea, constipation, or if you just can't lose weight no matter what you do then digestive health is crucial to investigate.
Other major red flags in this area are if you've experienced severe food poisoning in your life, if you've taken much medication over the years or been on the Pill for years, or if you've ever had general anaesthesia.
As far as what to do about it – remember that digestion begins in your mouth with the effect of saliva mixing with your food. This is one reason why it's smart to think back to what you were told as a kid, and 'chew each mouthful 30 times'. Another way to put it is 'eat your water and drink your food'.
There are numerous supplements which can help to improve your digestion, but I would suggest looking first to lifestyle.
Eating slowly; taking time to focus on your food, and avoiding processed foods are all key. So too are drinking adequate water and consuming enough fiber. You can get most of your fiber from your green vegetables, but if you are looking to detoxify stored body fat you may also like to supplement with fiber (search Primal Fiber). It's been said to be the world's number one fat loss supplement!
toxicity and the mindset of fat loss
Toxicity and a 'mindset of lean' are possibly my 'favourite' areas when it comes to stubborn fat loss. Favourite in a love-hate kind of way. Next week I'm going to explain exactly what I mean, so stay tuned!
In the meantime, start thinking more about which foods sit well with you and which ones seem to be trouble-makers. Who knows? I just might be onto something 😉
Don't forget –
Life is Now. Press Play.
Kat x

P.S.
Rebel.
Upstart.
Fuck the system; screw the rules.
Won't do what they told me.
Too much.
Unreasonable.
Ridiculous.
Unprofessional.
Crazy!
Should I go on? I could, but I think you get the picture.
You're the one who is not only not like the other PEOPLE, you're also not like the other entrepreneurs.
They, they actually think they're different; non-conformists?! Don't make me laugh. You and I both see it as it is:
They just wanna be told how to build a pretty little website and a pretty little social media page or three and a pretty little online product or course and get their pretty little headshots and do a pretty little pre-scripted dance all over the internet so that other equally pretty fucking bland and boring and same same-y peoples pay them money,
And they can all sit in a pretty little womans circle together patting each other linking elbows and stroking each others hair and singing Kumbaya as the sun sets over another day of sinking ever deeper into the unremarkableness that is their lives.
They are the ones who are not only willing to jump through hoops, they also want to build more hoops for other people; they want to perpetuate the hoop jumping life and their whole sales pitch is basically some version of "I will help you to have a better and shinier hoop, come see!"
lolol
BUT REALLY.
Meanwhile, you –
You've tried the hoop-jumping life, maybe more than what you care to admit. And, whilst you've nothing against sitting around with other ladeez and stroking each others hair, you and your girls; the real ones?
You don't exactly fit in in the typical woman's circle.
You don't feel at home with the pretty-preneurs, not even on the internet let alone in real life.
You don't actually GIVE a fuck about having all your shit perfect,
Polished,
And just so –
And the idea of having sales and marketing and content processes which you have to systematically pre-plan and then work through and endlessly join dots with?
Makes you want to hurl.
Sure –
You've bought in at times to do the idea that maybe you DO gotta do it as they say.
An automated webinar, perhaps?? Facebook ads which carefully and smartly tell the world who you are and how you can help? A sales plan proven and tested by the greats. The gradual sinking slow decline of your soul, your joy, your dreams, and even your pussy as everything within you that once knew she could HAVE IT ALL AND DO LIFE HER WAY SLOWLY DRIES,
WITHERS TO NOTHING,
AND DIES?
Sure –
Why not
And look.
It's not that any of these things are bad or wrong. Maybe right now you've got to a certain point by playing by the rules … kind of. Following what 'logic' suggests you do. Breaking free here and there with wild little jaunts into over the top madness, noticing how THAT lights you up and also how people respond to it … but ultimately continuing to go back to trying to find the right fucking system to get you to where you want to go,
Because this thing of trying to just be you interspersed with trying to get it all right and make it work, well –
It's God damn tiring –
But also, in the end, if we're going to be black and white about it, it hasn't got you to where you want to be!!
You KNOW you should be making SO much more money.
NOW.
With consistency, and yeah, while of course of COURSE you're down for doing the work, you also feel like it SHOULD be a lot easier, more flow
And you know that you know that you know that you've still not let out the most unrestrained and fully expressed side of you!
– The you they can't look away from
– The you they are MAGNETIZED by
– The you who automatically commands a huge freakin' following, and sales to match it
You know who I'm talking about –
THE MILLIONAIRE REBEL YOU!
Starting January 18th!
>>> https://thekatrinaruthshow.com/rebelmillionaire/
The revolutionary fucking leader who tears SHREDS off of normal every damn day before the rest of the world has barely sipped its coffee!
Who is FULLY unleashed in what she says, how she shows up, how she does business, how she does life.
Who does not give a fuck about following rules! Or sales systems! Or strategies! Who can and will do what works for HER, and if it happens to resemble other ways people build an audience and make a fuckload of money online, cool, and if not, so what! That is not the point! The point is –
She knows what works for her.
She backs herself unapologetically.
She DOES it.
And she gets the damn results. The BIG results. The CONSISTENT results. The FUCK yes results, not just with money but with the VIBERY of it all.
Imagine …
Waking up every day and KNOWING you have crushed the day before it already begun because THAT IS WHO YOU ARE AND HOW YOU ROLL!
* Your shit sells (at any and all price point)
* Your creativity and inner ideas machine flows endlessly (you always know what to put out into the world and that when you speak people PAUSE EVERYTHING AND LISTEN, whether it is with free content and shenaniganery or with your paid stuff)
* You don't even have to think about low end or high end or how to take people through a value ladder or some such bullshit, the value ladder is YOU CONTINUING TO BE YOU, and the more that you DO you the more people just take themselves through whatever it is you're offering!
* It is easy, natural, fun, and OBVIOUS how to build your automated income, funnels, the 'cash machine' side of your business.
* In fact the whole damn thing feels fun and easy and like you're just being you (the full on you, the too much you, the rebel you, the fuck all of 'em THIS IS WHAT I STAND FOR AND NOW I'M GONNA TELL YOU you!),
* and at the same time you have the DEEPLY grounded and certain knowledge that the way you're doing it, hot mess and chaos vibes and all, is WORKING. PS – the reason you feel certain of this is because your bank balance and soulmate audience and their feedback reflects it, not bc your spirit guides told you it's coming

All of this is ALREADY available to you.
It is who you are and what you were born for.
You did not come here for normal!
You are one of the truly crazy ones, who has something inside of her that will leave the world BREATHLESS –
and allow her to make millions and impact millions –
BUT NOT IF SHE CONTINUES TO DO BUSINESS AND LIFE BY TRYING TO SOMEHOW BE A NON-CONFORMIST WHO CONTINUALLY CAVES AND CONFORMS.
For this to work,
REALLY work, like next next NEXT level $ and life flow work,
you're going to need to FULLY turn your back on the idea that your breakthrough is waiting on the other side of you adjusting, filtering, compromising, playing the game the way the other entrepreneurs are playing it, or worrying about what the fuck your social media looks like!

What you're going to need to do is simple:
FLICK THE DAMN REBEL MILLIONAIRE SWITCH BABY.
>>> https://thekatrinaruthshow.com/rebelmillionaire/
All in on madness.
All in on crazy.
All in on chaos.
All in on the TRUE epic awesome ridiculousness and too much-ness of YOU.
REBEL MILLIONAIRE
Starting January 18th!
For those who were born to run the damn thing,
To turn the world on its head and dance on top of it,
And who are ready to do just that.